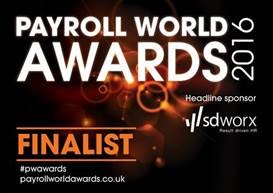 We are proud to announce that Online Payrolls has been selected as a finalist for Payroll Team of the Year – Bureau / Service Provider.
These awards recognise our teams achievements over the past year, which include the successful implementation of a cloud based workflow management system, documenting operational best practice and improving accountability through risk management. This has taken place while also increasing the size of the team by a third.
We pride ourselves on delivering bespoke payroll services for our clients within a very competitive and transparent fee structure. Our team are always eager to add value, providing support and guidance to our diverse UK client base.